As part of our vision to make music accessible to everyone, we have developed guides and activities that will engage children and provide resources for teachers at a time when many public school districts are forced to cut music programs from the curriculum. Elementary school teachers can click on our study guides for activities to incorporate into their classrooms, or parents can explore the music together with their children. We hope you will enjoy learning more!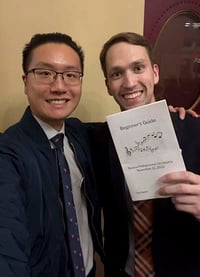 Look for our Crescendo Education Fellows to pick up your beginner's guide at every concert!
Beginner's Guides
Boston Philharmonic Youth Orchestra Bartok / Tchaikovsky Concert March 10, 2023
Boston Philharmonic Beethoven 9 Concert February 24, 2023
Boston Philharmonic Youth Orchestra Beethoven / Strauss Concert November 20, 2022
Boston Philharmonic Dvořák / Brahms Concert November 12, 2022
Boston Philharmonic Beethoven / Rachmaninoff Concert October 19, 2022
Photo: Ming-Hang Tam and William Hume
Periods of Music History
Back to Baroque
Discovering the Baroque period through Vivaldi's The Four Seasons
Grades 3–5
Classical Music
Discovering the Classical Period through Mozart and Haydn
Grades 2–5
Romantic Music
Discovering the Romantic Period through Chopin and Schumann
Grades 2–5
20th Century Music
Discovering 20th Century music through Gershwin and Strauss
Grades 2–5
General Music Theory
Further Guides
Alberto's Night at the Orchestra
Follow Alberto's big evening out as he attends his first orchestra concert with the Boston Philharmonic!
Hear Me Roar!: The Carnival of the Animals
Discovering the sights and sounds of the orchestra through Saint-Saëns' The Carnival of the Animals.
Grades 2–5
Compose Your Own Symphony
These lessons will help prepare their class for the BPO Classroom Concert "Compose Your Symphony!" thus providing students a more engaging and fun live concert experience.
Grades K–5
Peter and the Wolf at Fenway Park!
These lessons will help prepare their class for a Classroom Concert performance of Prokofiev's Peter and the Wolf, adding value and a greater understanding to the concert experience.
Grades K–5
---