June 12-26
---
TOUR ITINERARY Greece
June 15 - Athens Megaron: The Athens Concert Hall Christos Lambrakis Hall - Athens Program: Ravel La Valse / Elgar Cello Concerto (Zlatomir Fung) / Shostakovich Symphony No. 5
June 17 - Thessaloniki Concert Hall - Thessaloniki Program: Shostakovich Festive Overture, Tchaikovsky Variations on a Rococo Theme (Zlatomir Fung), Mahler Symphony No. 4 (Sofia Fomina)
June 19 - Corfu Old Fortress, St. George Square - Corfu (Free, no tickets required) Program: Shostakovich Festive Overture, Tchaikovsky Variations on a Rococo Theme (Zlatomir Fung), Mahler Symphony No. 4 (Sofia Fomina)
June 21 - Dodoni Ancient Greek Theatre - Ioannina (Free, no tickets required) Program: Ravel La Valse / Elgar Cello Concerto (Zlatomir Fung) / Shostakovich Symphony No. 5
June 24 - Delphi Frynihos Open Air Theatre - Delphi Program: Shostakovich Festive Overture, Tchaikovsky Variations on a Rococo Theme (Zlatomir Fung), Mahler Symphony No. 4 (Sofia Fomina)
June 25 - Rio Castle - Patras (Free, no tickets required) Program: Ravel La Valse / Elgar Cello Concerto (Zlatomir Fung) / Shostakovich Symphony No. 5
"One could not hope for brighter, more attractive and hope-inspiring emissaries from the America we hold dear. They can serve with certainty to summon our better angels." -Lee Eiseman, Boston Musical Intelligencer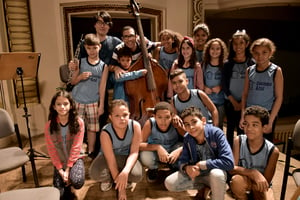 In fulfillment of the Boston Philharmonic Youth Orchestra's motto of "Shaping Future Leaders Through Music," the 2022 tour will feature performances in six cities throughout Greece, and numerous opportunities to collaborate with local young musicians.

BPYO musician with local students in Brazil
---
WE NEED YOUR SUPPORT TO HELP THESE REMARKABLE YOUNG PEOPLE SHARE THEIR OWN ENTHUSIASM AND LOVE FOR MUSIC WITH YOUNG ASPIRING MUSICIANS FROM AROUND THE WORLD.
The Boston Philharmonic Youth Orchestra is a
tuition-free ensemble
, open to highly-qualified and highly-motivated young musicians with a desire to become leaders in music and in life,
regardless of their families' financial resources
.

---
WHY DO WE TOUR?
"One indispensable reason why we go on tour is to share our music beyond the Boston music scene. Every person in this world deserves to be able to go to concerts or surround themselves with music, and with our international tours, we have been able to expand that opportunity for countless individuals. We may be young people, but we have been given the chance to change the world with love, music, and possibility, and that is why our international tours are so important." —Emily Chen,violin

"After being on tour, I see the world differently, and I firmly believe it's because now, I always keep my head up…When you look up, you notice everything, every last detail. I've always looked at my shoes like I was carrying some kind of burden, but now I can't stop looking up. I feel a little lighter, a little freer, a little more human." —Reese Williams,French horn
Read along on the tour blog:
2022 BPYO Greece Tour Days 4 & 5
2022 BPYO Greece Tour Days 6, 7, & 8
2022 BPYO Greece Tour Days 9 & 10
2022 BPYO Greece Tour Days 11 & 12
2022 BPYO Greece Tour Days 13 & 14
2022 BPYO Greece Tour Final Thoughts