About the Program
The third program of the BPYO season takes its cue from the title that Mahler gave to the last movement of his Third Symphony, "What love tells me". In the first work on the program, Wagner's Meistersinger Overture, that love is specifically a love for community and society – a love for the social relations that bind us together and that are at once so strong and yet so fragile.
The aspects of love that are embodied in Tchaikovsky's great concert overture Romeo and Juliet certainly don't require pointing out. But the brilliance with which Tchaikovsky combined the three themes of young love, feudal rivalry and religiosity into one compact, super-charged, perfectly proportioned movement is one of music's true wonders.
The Finale of Mahler's Third Symphony is that long symphony's sixth movement, a lyrical outpouring of astonishing beauty that rises to a climax of true exaltation. It represents Mahler's attempt to depict in music the very highest spiritual state that man can achieve – absolute and unequivocal love. The grave beauty of the movement is unique in Mahler's output, and by any measure it is one of his most extraordinary achievements.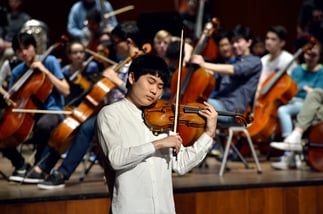 Something of an outlier in the program is Prokofiev's Second Violin Concerto. The gorgeous slow movement certainly exudes love from its every measure, but the troubled, darker outer movements speak in different accents. There is no doubt, however, that the whole audience is going to love the amazing young soloist, Inmo Yang, who so astonished everyone with his performance of the Sibelius Violin Concerto a couple of years ago. He won first prize in the prestigious Paganini Competition several years ago, a competition so rigorous that the judges had refused to award a first prize to anyone for the preceding ten years!
Benjamin Zander praises Inmo "The most extraordinary violinist of his generation in the world!" Inmo is moving away to Germany and this may be the last time to see him in Boston.
Don't miss this concert – you'll love it!
See Inmo Yang perform Paganini - Violinkoncert nr. 1 - In Mo Yang - DRSO - Fabio Luisi © Danmarks Radio
See Inmo Yang perform Prokofiev Violin Concerto No. 1 at the Menuhin Competition in 2014
See Inmo Yang perform Paganini Caprice No.5, Op. 1
Listen to What Love Tells Me the finale of Mahler's Third Symphony on YouTube
All dates, repertoire, venues, and artists subject to change.
Photo of Inmo Yang by Paul Marotta.