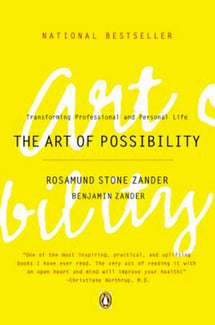 The authors' harmoniously interwoven perspectives provide a deep sense of the powerful role that the notion of possibility can play in every aspect of life. Through uplifting stories, parables, and personal anecdotes, the Zanders invite us all to become passionate communicators, leaders, and performers whose lives radiate possibility into the world.
Reviews for the art of possibility
"The Zanders' book of practices has made my life one of infinite possibility. . . The implications for corporate and political life are extraordinary."
—Warren Bennis, author of Managing the Dream and On Becoming a Leader
"In the presence of either Zander, one's spirit soars. Now they reveal their secrets in a deeply satisfying book. I guarantee you'll be inspired."
—Gail Sheehy, author of New Passages
"One of the most inspiring, practical, and uplifting books I have ever read. The very act of reading it with an open heart and mind will improve your health!"
—Christiane Northrup, M.D.
Available in softcover and hardcover. 7-disc audio edition also available.