This event is free and open to the public.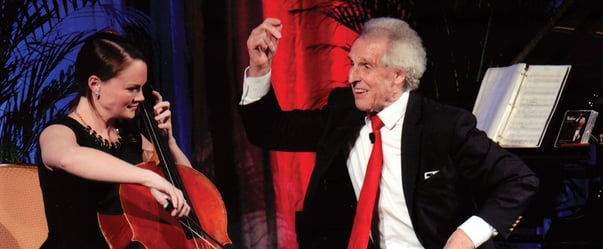 ---
Program
Barber: Cello Concerto
Yuri Ahn, cello (Dina Vainshtain, pianist)

Yuri is a student at the Walnut Hill School for the Arts in Natick, Massachusetts, as well as at the New England Conservatory Preparatory School. Yuri has performed a wide variety of chamber music and orchestra music. She has also participated in many competitions. She performed at the Metropolitan Museum in New York, and in the New England Conservatory Prep concerto competition in 2014 and 2015, and made the final list. In Korea, Yuri studied with Hyeong Won Chang, and Sul Ah No, and is now studying with Mark Churchill.

Schubert: Gretchen am Spinnrade
Bethany Worrell, soprano (Dina Vainshtain, pianist)

Hailed for performing with "a gorgeous and flexible soprano that revealed a large measure of dramatic intelligence and musical acumen," Bethany has performed in Boston, Pittsburgh, Chicago, Salzburg, Austria, and Florence, Italy. Bethany is a native of Macomb, Illinois and currently resides in Boston, MA. For more information about future performances, please visit her website at www.bethanyworrell.com

Beethoven: Cello Sonata No. 2 in G minor
Peiyao Guo, cello (Jayoung Kim, pianist)

International award-winning cellist Peiyao Guo is a master's degree candidate at the New England Conservatory studying under Laurence Lesser. Guo was a recipient of the ABRSM award granted by the Associated Board of the Royal Schools of Music Foundation during his studies in London. He has participated in master classes with Lynn Harrell, Raphael Wallfisch, and Sung-Won Yang. Guo's has performed with the Guangzhou Chamber Orchestra, Cape Cod Symphony Orchestra, Shanghai Conservatory, and Royal Academy of Music Symphony Orchestras, as well as numerous solo and chamber music recitals in China, Europe, and the US.

Beethoven: String Quartet No. 11, Op. 95 "Serioso", Movement 1
Amory Quartet
Janny Joo, Emile Campanelli, violins; Sam Kelder, viola; Tim Paek, cello

A Boston-based string quartet formed by 4 close friends in 2016, the Amory Quartet members have been playing with each other in different configurations for many years until they finally decided to form a string quartet together this year. Though the quartet is relatively young, the quartet members have already shared many memories together as they have attended same schools and were all Emerging Artists Fellows at the Garth Newel Music Center in 2015. Individually, they have performed all over the world including Germany, Czech Republic, Belgium, England, Jamaica, South Korea, and have played for members of the Chiara String Quartet, Daedalus Quartet, Cavani Quartet, and Muir Quartet among others.